BIO
Born in Tarragona (Spain) in 1982, he is a photographer based in Alicante. Graduated in Humanities, he holds a Master in Fine Art Photography and Professional Projects from LENS Visual Arts School, Madrid.
Interested in the possibilities of documentary language, he uses images from the real world to construct subjective and fictional territories. With his work he wants to reflect on the processes of construction and representation of contemporary landscapes, focussing on the relationships between land, power and freedom.
His work has received several awards and scholarships, highlighting the FotoPres la Caixa prize for his work «Bonavista», whose publication was finalist for Best Photobook at Les Rencontres d'Arles.
He has exhibited his work at the SCAN International Photography Festival, Outono Fotográfico Festival, PhotoAlicante International Festival and in galleries and museums such as CaixaForum Madrid and Barcelona, Fundación Canal Madrid or Fundació Forvm in Tarragona.
David teaches photography at University of Alicante in the Contemporary Photography Expert Title, and he has worked with public and private educational centers, such as the LENS School of Visual Arts in Madrid, Escola d'Art i Disseny de Reus or MISTOS Photography School in Alicante.
CV  Ι   ESSAYS  Ι   INTERVIEWS
CV
(download here)
EDUCATION
«Degree in Humanities» from Universidad de Alicante UA
«MASTER in Fine Art Photography and Professional Projects» LENS Visual Arts School, Madrid
«Art and Design Expert, specialized in Art Photography» Tarragona Art and Design School
Workshops with Mark Steinmetz, Martin Parr, Joan Fontcuberta, Robert Lyons, Félix Fuentes, Gerardo Custance, Matías Costa, Óscar Alonso Molina, Iñaki Domingo, Ricardo Cases and Ricky Dávila
SOLO EXHIBITIONS
2021 – «Bonavista» – Museu d'Art Modern de Tarragona (MAMT)
2017 – "El Paraíso" – Fundació Forvm per la Fotografia, Tarragona
2017 – "Bonavista" – Photoalicante. Alicante
2017 – "El Paraíso" – La Galería Tigomigo. Barcelona
2016 – "El Paraíso" – Museo Municipal de Ourense
2016 – "El Paraíso" – CentroCentro Cibeles, Madrid
2012 – «TRANSICIÓN» El Pàrquing, Tarragona
COLLECTIVE EXHIBITIONS
2022 – «8th MUA Residencies of Creation and Investigation» Museo de la Universidad de Alicante
2017 – «A certain scene (recent author photography in Spain)» Canal de Isabel II
2016 – "19º FotoPres La Caixa" CaixaForum Zaragoza
2015 – "Affinities. Places and Non Places" – Forvm Foundation, Tarragona
2015 – "Prix du Livre" – Les Rencontres d'Arles (France)
2015 – "19th FotoPres La Caixa" CaixaForum Barcelona
2015 – "19th FotoPres La Caixa" CaixaForum Madrid
2014 – "Geography, Territory and Landscape" SCAN Tarragona, International Festival of Photography
2013 – "Side B: the crisis as an excuse" LaSede COAM, Madrid
2012 – «The Exhibited Self-Publishing» SCAN Tarragona, International Festival of Photography
2012 – «Self-Published Books» PassanantFoto Festival, Tarragona
2010 – «Souvenir» SCAN Tarragona, International Festival of Photography
2010 – «Scenical Spaces» Casa de la Generalitat, Tarragona
2006 – «Part Alta 20-21» Antic Ajuntament, Tarragona
GRANTS AND AWARDS
2018 – Selected «Full Contact» SCAN Tarragona, International Festival of Photography
2016 – Selected «Full Contact» SCAN Tarragona, International Festival of Photography
2015 – Nominated "Author Book Award". Les Rencontres d'Arles (France)
2015 – Selected "Descubrimientos PhotoEspaña", Madrid
2013 – «19 FotoPres La Caixa»
2012 – «LENS Photography Scholarship» for TRANSICIÓN. LENS Visual Arts School, Madrid
2011 – «ORANGE Awards» TRANSICIÓN, best final project in Tarragona Art and Design School
2010 – «LUX 2010 Awards» Spanish Association of Professional Photographers, Mention in the Junior class
2010 – "Heritage and Contemporary Creation" Culture and Media Territorial Services of Generalitat de Catalunya, Tarragona
---
Essays
Jesús Micó's essay from the book «Un cierto panorama. Reciente fotografía de autor en España»
Download here
---
Interviews
---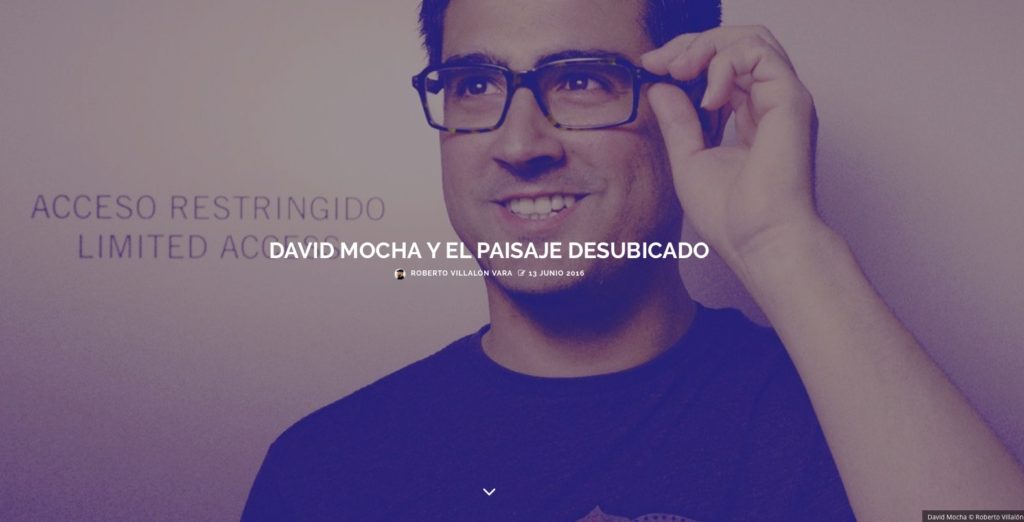 ---
---
---
---